Introduction
Sydney is the largest city in Australia and the state capital of New South Wales with a population of just over 5.23 million.
Sydney is a European settlement, having been founded by the British as a penal colony on 26 January 1788 which is celebrated as a public holiday, Australia Day, with major festivities around the country.
Captain James Cook, the English explorer, discovered Sydney's twin harbors, Port Jackson and Botany Bay, in 1770 while navigating the east coast of Australia. Sydney's large, secure, and stunning natural harbor was the factor that the original penal settlement was developed in the area.
In 1788 the first fleet with 1400 convicts' soldiers, administrators, and their family members arrived here in the area now called Circular Quay situated between the renowned Sydney harbor bridge and opera house.
In 1793, Sydney's first free settlers arrived to make Australia their home. By 1840, convict transportation to Sydney had ceased and in 1851 gold was discovered leading to a huge population boom. By 1925, Sydney's population had reached 1 million inhabitants.
Sydney has a worldwide reputation as one of the world's most lovely and liveable cities. It is a modern and cosmopolitan city, with one-third of its populace born overseas.
Sydney was the host of the very successful 2000 Summer Olympic Games, which raised the city's global profile.
Travel Guide To Sydney 
Sydney (Kingsford Smith) International Airport (SYD) is Australia's busiest airport and located 10 km (6 miles) south of the city CBD on Botany Bay. International terminal T1 handles all international flights. Domestic terminal T2 and T3 handle Qantas, Jetstar, Virgin Blue, and regional airlines. Transfer between domestic terminals T2 and T3 is by walking through the underground railway station or across the car park. A free shuttle bus is provided to transfer between T1 and T2/T3 for passengers connecting with their flights.
Taxis are available outside the arrival hall. For two or more people traveling together, a taxi is the cheapest and most convenient option. [A taxi to the city center is about $40-$47]
Mini-Bus operators are available in the arrival hall to take passengers directly to the city hotels [$15 per passenger, return $24]
Airport Link Train connects Sydney Airport (international and domestic terminals) with the CBD and is part of the CityRail commuter rail system. The train service is the easiest and cheapest way to get into the city. The train takes about 15-20 minutes and transits all the CBD stations – Central, Museum, St James, Circular Quay, Wynard, and Town Hall. Passengers can travel virtually anywhere in Sydney from Central Station. [One-way fare Adult $15, child $10]
From Interstate
Car – To drive from Brisbane to Sydney takes about 11-12 hours, from Melbourne about 9-10 hours.
Coach companies operate to Sydney from all capital cities and many New South Wales regional centers. The Sydney coach terminal is located near the Sydney Central Railway station in the south of the CBD.
Cruise Ships arrive from all over the world at Sydney's International Cruise Ship terminal.
CountryLink Train services are run daily services to Sydney from Brisbane, Melbourne, Canberra, and many regional centers of New South Wales. Traveling time from Melbourne and Brisbane is around 12 hours.
The Indian Pacific Train (Prices might be not the same by the time you travel) service runs from Perth (Wed) to Sydney (Sat) via Adelaide, taking 3 days. Return airfares are less expensive than the train. However, the journey is great for train enthusiasts who want to see the outback of Australia. [Adult fare from Perth are A$1250 for a sleeper cabin, A$520 for a seat, Child fares are A$800 for a sleeper cabin, A$140 for a seat].
Sydney Weather
The climate is comfortable for travelers to visit any time of year.
The summer months of January and February can be hot (above 30°C) and humid. Winter is comfortable during the day but can be cold at night (below 10°C, although it does not snow). Sydney's beaches are best between November and early-April. Sun protection is important as the UV exposure risk can be extreme especially in summer.
Sydney Transport
Taxis are metered and will always charge the metered rate plus any charges for toll roads.
Sydney Monorail travels a loop through the City above Chinatown, the Spanish Quarter, George Street, past the historic Queen Victoria Building to the entertainment and dining area of Darling Harbour. [7am-10pm, Adult & child over 6yrs $4.80, under 6 free]
Metro Light Rail (a tram service) links Central Station and Sydney's Inner Western Suburbs. Destinations include Paddy's Market, Chinatown, Entertainment Centre, Darling Harbour, and Star City Casino. [Operates 24 hrs, single fare from $3.20]
Trains run underground in a loop around the CBD from Central Station to Town Hall, Wynard, Circular Quay, and back to Central Station. Trains from Town Hall & Wynard Stations go over the harbor bridge to the northern suburbs. Passengers can travel virtually anywhere in Sydney from Central Station.
Sydney Ferries operate from Circular Quay, located in Sydney Cove between the Sydney Harbour Bridge and the Sydney Opera House. The network connects destinations from Parramatta in the west to Manly in the north and Watsons Bay in the east. The Circular Quay to Manly excursion is very popular with visitors as a low-cost harbor tour. [Adult fares from $6, takes 30mins]
Cars drive on the left side of the road. Sydney CBD parking can be challenging and congestion can be expected on roads from 6:30 am to 9:30 am and 4 pm to 6:30 pm. There are many toll roads in Sydney (M2, M4, M5 & M7 Motorways, Lane Cove Tunnel, Cross City Tunnel, Sydney Harbour Bridge and Tunnel). Many are changing to electronic tolls only. E-Toll allows vehicle drivers to open an E-Toll tag account and register for an E-Toll pass online. If you hire a rental car purchase an E-toll tag, otherwise if you fail to pay an E-toll, the rental car company will charge you the toll and an administration fee.
Sydney Explorer & Bondi Explorer Bus – The red Sydney Explorer hop-on hop-off sightseeing bus visits 27 of Sydney's most famous attractions such as the Opera House, Royal Botanic Gardens, Mrs. Macquarie's Chair, Kings Cross, The Rocks, Darling Harbour and travels across the Sydney Harbour Bridge. The 'blue' Bondi Explorer stops at 19 of Sydney's most picturesque harbor locations and surf beaches along a 30km circuit through Sydney's affluent Eastern suburbs, including cosmopolitan Double Bay, Watson's Bay, and Sydney's famous Bondi Beach. 
The services are air-conditioned and include onboard commentary detailing the attractions near each stop for visitors to explore at your leisure. Each bus operates at 20-minute intervals; allow two hours to complete the entire journey. [One-day Sydney & Bondi Explorer ticket, adult $39, child $19, family $97]
Sydney Attractions – Must See Tourist Places
Sydney Harbour Bridge is one of Sydney's most famous landmarks crossing the Harbour and has excellent views of the city and harbor, especially at dawn and dusk. Stroll or cycle throughout the Harbour Bridge (access from the Rocks area). The eastern side is scheduled for pedestrians and the western side for cyclists and there is no toll for going across by foot or cycle. Climb the bridge with Bridge Climb during the day or night. Or climb to the Pylon Lookout on the southeast pylon. [Open 10 am to 5 pm every day, adults $168, $143 for the child, under 7 free].
The Sydney Opera House is located on the harbor front of the city. The World Heritage Listed building is a world-famous iconic structure and a fantastic architectural work of the 20th century. The Sydney Opera House has earned a reputation as a first-rate performing arts facility and come to be an icon of both Sydney and the Australian country.
Star City Casino Sydney is located at Darling Harbour and runs 200 gaming tables and consists of a 480-room resort, 2 theaters with an overall 3000-seat capability, 7 restaurants, and a nightclub.
Sydney Tower is the tallest framework in Sydney and lies above a Centrepoint shopping mall, at the corner of Pitt Street and Market Street in the center of Sydney's retail precinct. At the same height as the Eiffel Tower, Sydney Tower gives breathtaking views of one of the world's most spectacular cities. [Open daily, 9 am-10.30 pm, Adults $29.00, Child (3-15 yrs) $20.00, Under 4 free, near Town Hall railway station]
Darling Harbour is a large tourist precinct next to the Sydney CBD. There are shops, restaurants, cafes, bars, hotels, convention centers, a Chinese Garden, museums, and the Sydney Aquarium.
Sydney Aquarium situated at Darling Harbour is Sydney's premier tourist destination and one of the biggest Aquariums on the planet. The Open Ocean display is a huge oceanarium making up undersea passages enabling site visitors to peek Australia's renowned marine life at extremely close quarters. Sydney Aquarium likewise houses the largest collection of sharks in captivity. [Take the train to Town Hall Station, monorail to Darling Park Station, Sydney Explorer Bus or walk from the CBD's Market Street or King Street, Open 9 am-10 pm daily, Adult $46, Child (3-15 yrs) $33]
WildLifeWorld is located at Darling Harbour next to the Sydney Aquarium. Discover 9 special Australian environments (eg rain forest, grasslands) and have your image taken with a koala, snake, or kangaroo. [Open 9-6 pm daily]
Taronga Zoo is just across the harbor from the city with great views of the city. [Arrive by bus or ferry, open 7 days].
Sydney Harbour Cruise is a must-do experience while visiting Sydney. Take a sight-seeing lunch cruise or sunset dinner cruise under the harbor bridge, past the Opera house and magnificent foreshore homes.
Sydney Observatory built-in 1858, is Australia's earliest observatory, and one of the most considerable sites in the country's scientific history.
Historically the Observatory was vital to shipping, navigation, weather forecasting, and timekeeping along with the study of the stars seen from the Southern Hemisphere. Today the Observatory is a museum. It is located near Sydney's historical Rocks area and the world-famous Sydney Harbour Bridge and is easily reached by car, bus, train, and ferry. [Open daily, 10 am-5 pm, free admission]
Sydney Olympic Park is located at Homebush Bay about 10km west of Sydney and was the venue for the 2000 Summer Olympics and is now an area of parklands, venues for sports and outdoor activities. [Take the CityRail train from Central Station to Olympic Park Station or a Sydney Ferry from Circular Quay / Darling Harbour to Sydney Olympic Park Ferry Wharf]
Luna Park is a theme park located at Milsons Point, just under the northern end of the Sydney Harbour Bridge. It is easily accessible by train, bus, ferry, and car. Take a train to Milsons Point Station or a ferry from Circular Quay / Darling harbor to Milsons Point (Luna Park) wharf. [Entrance is free, purchase tickets for rides or buy a pass]
Sydney's Entertainment Quarter is only 10 minutes from the CBD and satisfies all your entertainment requirements. It's retail buying paradise with late night shopping seven days a week in addition to the extremely prominent EQ Village Markets, including fresh fruit and vegetables every Wednesday and Saturday and the EQ Village Sunday Market. The precinct offers a retail complex, including shops, cafes, restaurants, bars, cinemas, The Comedy Store (Sydney's premier comedy venue), lush parklands, sporting facilities, and entertainment venues.
Sydney Beaches
Sydney is famous for its great beaches close to the city.
Bondi Beach is the most well-known and closest beach to the city. Catch a regular bus from the city or ride the Bondi Explorer Bus – The 'blue' Bondi Explorer stops at 19 of Sydney's most picturesque harbor locations and surf beaches along a 30km circuit through Sydney's affluent Eastern suburbs, including cosmopolitan Double Bay, Watson's Bay, and Sydney's famous Bondi Beach.
Manly Beach is across the other side of Sydney's spectacular harbor. Enjoy a seafood lunch or dinner at one of many restaurants lining the bay. Take the Manly ferry from Circular Quay, located in Sydney Cove between the Sydney Harbour Bridge and the Sydney Opera House.
Double Bay is a harbor beach just a few kilometers east of the city. Known for its upmarket hotels, shops, and restaurants – this is where the rich and famous go when visiting Sydney.
Nightlife and Entertainment
The Sydney CBD has a multitude of restaurants, bars, and clubs. Within walking distance of the CBD is the Darling Harbour area with many restaurants, bars, and nightclubs encircling the harbor including the facilities at Star City Casino.
The Rocks area around the southern CBD-side of the Harbour Bridge is popular for its restaurants and Irish pubs. While Kings 
Cross to the east of the CBD in Sydney's red-light district with many bars, strip clubs, and night clubs. Paddington's Oxford Street area south-east of the CBD is popular with drinkers.
Over the Harbour Bridge, North Sydney is a popular area with Sydney's younger party-goers.
Sydney Dining
Sydney's multicultural mix of people presents a huge range of cuisine from around the world.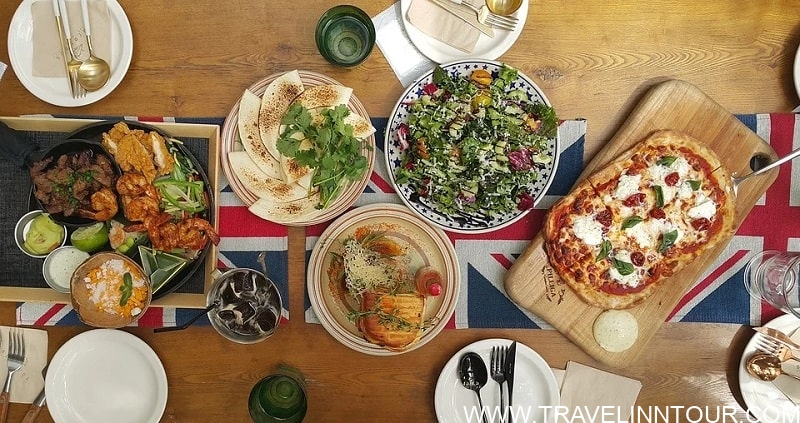 The CBD area is full of many restaurants, bars, and cafes.
The Summit revolving restaurant and bar has great food and fantastic views of Sydney. It is located on level 47 of the Australia Square building on George Street.
Sydney Tower Restaurants host the fabulous revolving buffet restaurant and a la carte restaurant [lunch from $49, dinner from $64]
Darling Harbour is lined with many quality restaurants and cafes overlooking the waterfront making a very pleasant dining experience.
Chinatown has excellent food at the many good quality restaurants and inexpensive food from the many food courts.
Food Courts are located in most of Sydney's many shopping malls and offer visitors good value meals. Sydney has most of the usual American fast-food outlets such as McDonald's and KFC. Coffee shops such as Starbucks and Gloria Jeans are very common in malls and commercial centers.
Sydney Shopping
The Pitt Street Mall in the CBD is the city's main pedestrian mall located between Market Street and King Street. There are many shops lining the adjoining streets. Castlereagh Street is popular for fashion boutiques, jewelry stores, and internationally branded goods.
The Queen Victoria Building is located in the CBD on George St adjacent to the Sydney Town Hall. It was refurbished in the 1980s into over 400 stores but still retains its historic and beautiful architectural Victorian style. The basement connects through to the underground Town Hall Railway Station.
Darling Harbour Mall located on the waterfront hosts many stores merchandising internationally branded goods, designer boutiques, and features restaurants and cafes with waterfront vistas.
Strand Arcade in Sydney's epicenter of style and design, housing many of Australia's top designer labels, manufacturing Jewelers, unique shops, and beauty salons. The arcade was named after the famous Strand in London and opened in 1892 and is the only remaining Victorian-era arcade in Sydney. The lower ground floor hosts one of Sydney's largest Duty-Free stores offering duty-free and retail prices.
Oxford Street to the east of the CBD is a popular area with visitors as the streets are lined with shops, bars, and nightclubs.
Paddy's Markets located at the southern end of the CBD in Dixon St is a huge open hall full of vendors selling merchandise at bargain prices. [Open Thursday to Sunday]
Sydney Fish Markets is popular with tourists and is a great experience for the best in Sydney's seafood and one of the best gourmet experiences. Try to get there before 9 am to catch some of the action and sample from one of the market's many restaurants. [Take the metro light rail]
Westfield Shopping Centre Bondi Junction is located in Sydney's Eastern Suburbs and is the closest large shopping complex outside the CBD and is easily accessible from Bondi Junction railway station which is ten minutes ride by train from Town Hall Station.
Beyond Sydney
Hunter Valley Wineries is a very popular day tour. The Hunter Valley is located one hour north of Sydney, inland from the city of Newcastle.
The Blue Mountains are located about a one hour drive inland from Sydney or the area is easily accessible on the CityRail network to the town of Katoomba. The Katoomba area has a number of lookouts overlooking the beautiful mountains and valleys. There are many walking tracks and visitors can tour the famous Jenolan Caves. During winter, snow can occasionally fall in the mountains however not enough for skiing.
Save It On Pinterest